This week we are celebrating National Tooth Fairy Day.
Did you know that there was such a thing? I did not, but hey why not? This week I had the awesome opportunity to work with some stamps from Jaded Blossom, who also happens to be our sponsor for this weeks challenge. This stamp was way too cute and I'm excited to show you my project!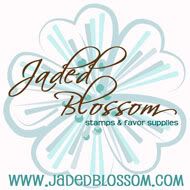 Check it out:
I decided to make a Tooth Deposit Box for when my daughter begins to loose her teeth, which is right around the corner. When she has a tooth come out she can put it here instead of underneath her pillow and then in the morning she can see what the tooth fairy left her.
The box came from the Tags, Bags, and Boxes Cricut Cartridge. I choose to cut the matchbox off page 123 at 4" and then the inside of the box on page 124 at 3.9". The large tooth on the front of the box comes from the A Child's Year Cricut Cartridge and I cut it using some white glitter paper and accented it with some clear glitter glue. Again, the stamped image of the tooth fairy and the sentiment inside the box, "From the official desk of the tooth fairy", all come from Jaded Blossom. The paper comes from DCWV The Glam Stack.
Here's a close up the stamped image that I cut out to place over the tooth.
And, here's a close up of the sentiment.
Now, it's your turn to go to Fantabulous Cricut and upload a photo of your tooth fairy project! And, don't forget to check out Jaded Blossom for some very cute stamps!!